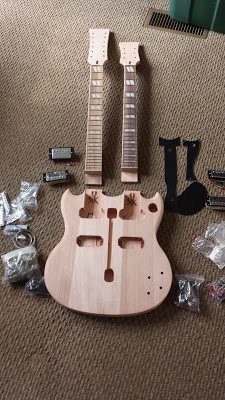 Here is a little toy/project I picked up on eBay last week. I've been wanting to try one of these for a long time, and I finally found one at a bargain-basement price.
Actually, I've sold this guy to pay for most of it. So it's going to turn out to be an even better bargain. I'm trading a guitar that sort of duplicates what I already have for something unique and different.
I've never built anything like this before, so it's going to be an adventure.
This is, in fact, not the kit I originally ordered. To make things easier on my novice self, I ordered a kit with bolt-on necks. But then the company emailed me saying they had made an inventory error and they were out of the bolt-ons. Could they send me this other kit instead? "This other kit" happens to have set-in necks.
After a bit of back-and-forth (I asked them, among other things, if they thought a total novice could handle assembling set necks), I told them to go ahead and send it, I would give it a try. They said if I found out I couldn't handle it, they'd let me return it to them, even if I'd begun finishing, etc., so that was nice of them.
Hopefully this guitar can add a number of new tones to my arsenal. It is a mahogany body with 24.75″ scale, neither of which I have on any of my current guitars. Plus, obviously, the electric 12-string sound. Maybe I can become John McLaughlin…
Now all I have to do is put it together without screwing it up. Stay tuned for updates as we go along.